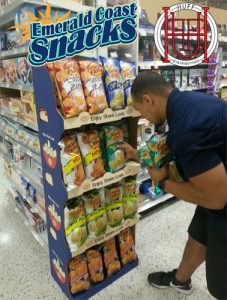 Huff Distributing LLC began on the west coast – our roots go back to distribution of sunscreen to the Pool decks on the Vegas Strip.  Through the years and acquisitions, we have shifted focus and become a largely salty snack distributor. We have been in business for over 20 years and have routes on the ground in several states.
Currently, our heaviest presence and focus of our growth has been in the South – mainly in the state of Florida. We encompass the entire panhandle and as far South as Orlando, Fl.
We currently distribute many name brands such as Ole Tortillas, and under our Emerald Coast Snacks banner we distribute Golden Flake, Utz, Zapps and Herrs. In our Western and Midwest divisions we carry all brands. We also carry private label for several large grocery chains.